Camp Foster
Located in the Iowa Great Lakes region in the northwest corner of the state, Camp Foster is nestled along 214 beautifully wooded acres on East Lake Okoboji.
Camp Foster's mission is for all children to have more than just a recreational experience. Through program activities and staff role models, all campers are exposed to Foster's five values:
Respect, Responsibility, Caring, Honesty and Fairness.
Camp Foster has both the professional staff and excellent facilities to provide an unforgettable experience for all campers. Camp counselors are recruited on their proven abilities to serve as mature and responsible role models. Staff members pass extensive background checks and receive in-depth training prior to camp. With safety being the top priority at camp, the health director is on duty 24 hours a day to ensure the health and wellness of all campers, and Lakes Regional Hospital is just 10 minutes from camp.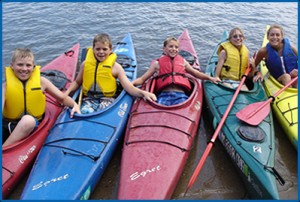 Camp Foster contains 24 air-conditioned cabins, many of which are equipped with bathrooms. Other cabins will use the modern central bathroom facility complete with individual shower stalls and automatic faucets.
There are endless recreation and team building activities available at Camp Foster, including: Archery, Horseback Riding, Swimming, Hiking, Canoeing, Disc Golf, Challenge Courses, Rifle Range, Climbing Towers, Kayaking, GaGa, Zip Lining, Campfire Programs, and more!
Camp Foster is accredited by the American Camp Association, meaning that camp meets or exceeds more than 300 standards for health, safety, and program quality.